With Milan Fashion Week coming to an end, it is evident that new trends are beginning to appear.
Many Spring 2013 trends we had seen in New York and London, consistently reappeared on the runways throughout Milan Fashion Week. The Milan runways were flourished with bold, thick stripes, bright hues, colourful florals, geometric prints, and sheer fabrics. Overall, Milan had a 1960s mod-vibe about it, with a touch of the 1920s and with a strong hint of oriental.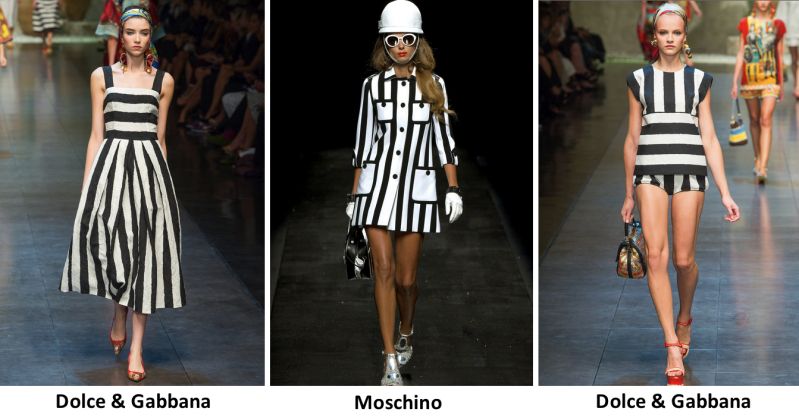 The '60s mod-style, emulating op-art, was most evident at the Moschino show. Rossella Jardini stated that the show was inspired by the 1967 film, Two for the Road, starring Audrey Hepburn. The show featured straight waists, thick stripes, and high hemlines. Thick stripes also appeared at the Dolce & Gabbana show, in the same black and white contrast used at Moschino. Although the theme of Dolce & Gabbana seemed to be more tropical, there were also high hemlines and bold prints in their collection. The straight waists and overall mod-style was prevalent at the Gucci show, as well. Gucci presented bold splashes of colour, geometric silhouettes (another popular 1960s trend), and lively floral prints.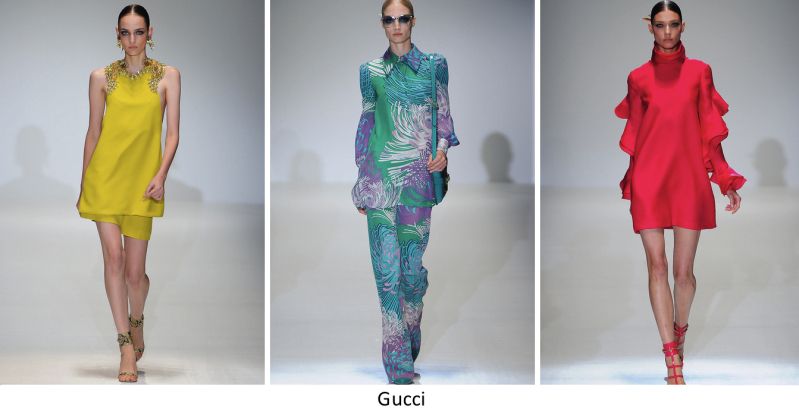 The straight waists continued to be seen throughout Milan, but this time, sporting a 1920s-style glamour. Alberta Ferretti displayed this flapper-esque look exquisitely, with sheer materials and beading. Emilio Pucci followed suit with sheer fabric as well. Creative Director of Pucci, Peter Dundas, took in inspiration from the Orient, with Mandarin collars and Kimonos, which was a common thread amongst many designers. The oriental ambiance of the Emilio Pucci show mirrored that of art deco, a popular art style in the 1920s. According to
Style.com
, Peter Dundas took inspiration from Vietnam, which could be another throwback to the 60's during the Vietnam war, as the show did feature some military-style jackets.