Chanel's Ready-To-Wear Fashion Show Spring 2013:
Pearls & Class!
Attention all you Chanel lovers! Yes, the day everyone has anxiously been waiting for has
finally arrived! On Tuesday October 2
nd
the ready-to-wear Chanel Spring 2013 runway show, was presented at Le Grand Palais, in Paris.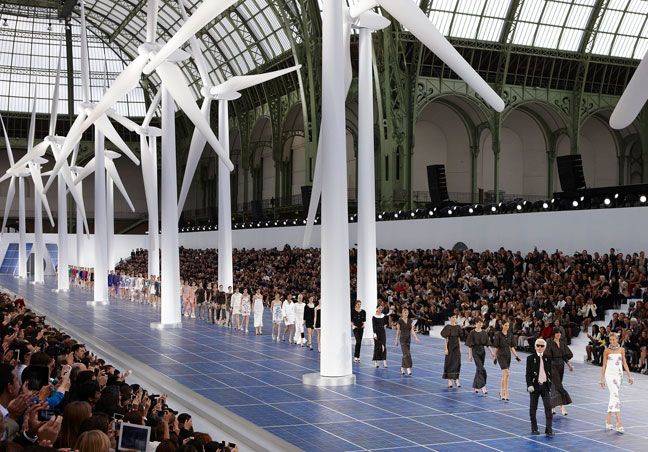 media-news.chanel.com
Endless high energy filled the room, and was dispersed throughout the entire building, with windmills that brought some eco-friendly representation to the high fashion show. Chanel presented the location with an eco-friendly vibe, and in edition, kept it formal and fresh.
This collection portrayed a mx of classic and originality, with the support of a prodigious band, which embarked the show with much spirit. Vivid pearls on the garments embodied the classical idea of Coco Chanel and the sophisticated look for a woman. Chanel is highly emphasizing the large pearls in this collection, which you can see on the models neck and wrist to expose this awareness to a younger target. The pearl necklace and bracelet was worn by every model that strutted down the eco-friendly runway, you couldn't miss it! It is a familiar accessory that describes and identifies Chanel. The pearls were even incorporated with the simple sleeked back ponytail…amazing!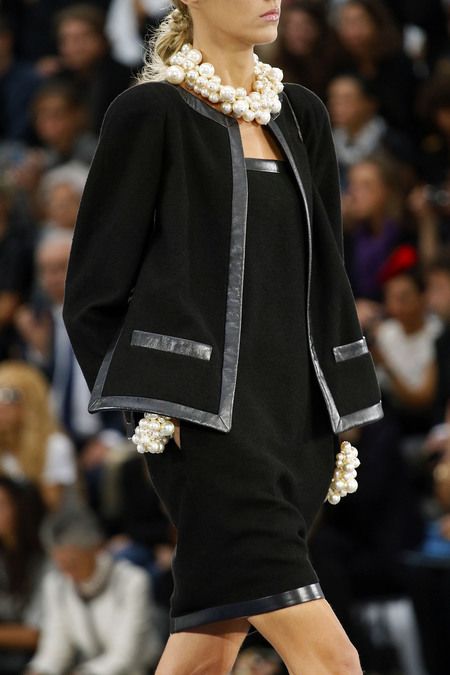 style.com
From, jackets, to blazers, to dresses, all garments consistently consumed the big pearls. Some were used as buttons and others were simply dispersed throughout the whole attire. Even though all garments consisted of the pearls, they were all very casual, yet classy.
The Jean dress brought much attention, and any women looking for something comfortable for the spring, would want their hands on this garment! The strapless jean dress is a flattering garment, that has the pearls aligned around the bust completed with two pockets which tied the whole piece together.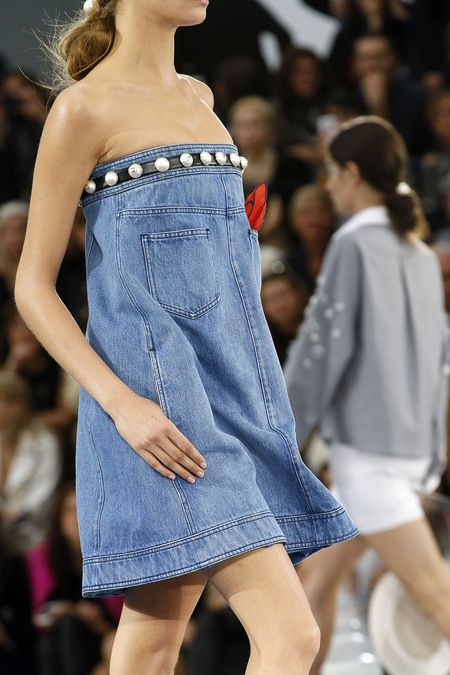 style.com
Karl Lagerfeld also brought the little black jacket back to the stage, typically with some adjustments, while still following the true designs of Chanel. Here you can also see the large pearl bracelet, and necklace. Take a look below! Something that really grabbed my attention was the swimwear, which outlined the symbol of the double C's, which was strutted down with a huge looped bag and the amazing Coco Sunglasses that had a silhouette of Coco Chanel herself. What a feature!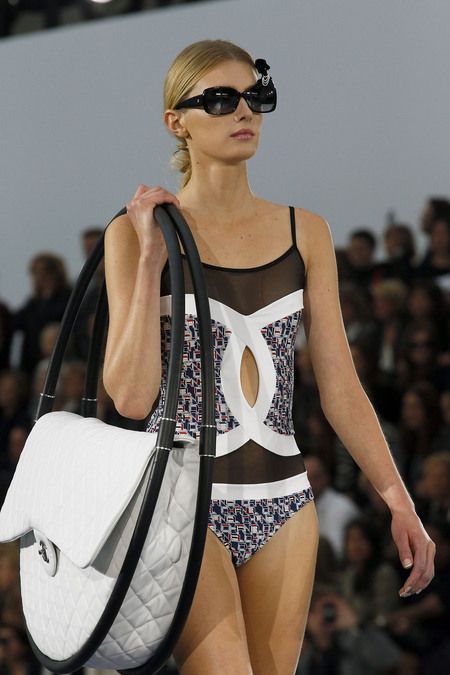 style.com
This spring collection brings confidence to any women looking for a casual and again, chic look. The garments are pure, and light with an unusual colour palette entailing of pinks, blues, and purples, and of course the classic white and black. This fashion show brought a sophisticated collection, and an energetic show, that filled the air with confidence and most of all, Chanel!
Karl Lagerfeld does another amazing collection and a fashion show to always remember. I mean who really fails to recall windmills on the runway?