Are you the type of person who needs everything to match their style? Are you a dog lover? If so, Babies & Beasts could be the source of your next purchase.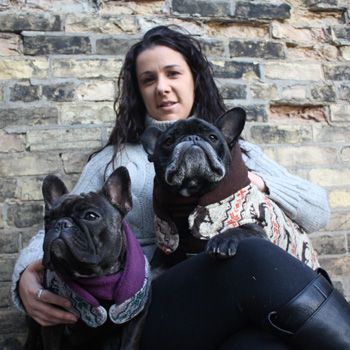 Dogs have always been man's best friend. But in recent years, dogs have almost become fashion accessory, thanks to the likes of Paris Hilton, Nicole Richie, and Miley Cyrus. Some people parade their dogs around in designer outfits, and while that idea may seem bizarre to some, to others, it's completely normal, and for one Toronto woman, it's how she makes her living.
Babies & Beasts is a company recently developed by designer, Krystine May (see left photo), who is also a Humber College graduate, specializing in making fashionable and functional clothing for dogs. In particular, the clothing is catered to dogs of odd proportions or sizes, who cannot wear or fit into the general dog clothes sold at pet stores.
In Toronto winter hits hard and with such strong winds and cold temperatures, dogs, especially small ones need to keep warm when out and about. Babies & Beasts offers a variety of items, from a stylish "City Coat," to turtlenecks, all in trendy colours, fabrics, and styles. Babies & Beasts is getting recognition from all over the world and even from the television industry, as Babies & Beasts will soon be featured on an upcoming episode of Dragon's Den. Also look for Babies & Beasts at the upcoming Winter Woofstock festival in Toronto on November 16th and 17th.
Babies & Beasts currently operates from its main studio on Queen St. West in the Art & Design District. Its products are sold through the company website and Etsy. With such convenient and stylish outerwear, your dog will never give you the cold shoulder, or even have cold shoulders for that matter!