Being only an 18 year old fashion student and dreaming about fashion ever since a young age, stirred up my spirits to leave campus and take an adventure to Toronto World MasterCard Fashion Week. After all who says you have to be 19 to attend?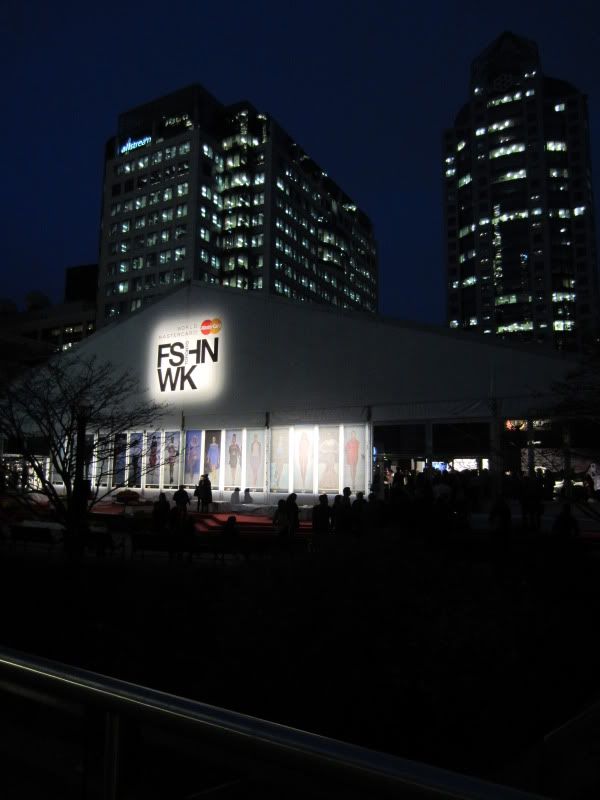 Yes you read this correctly, I packed my bags, collected some quarters, went on Google maps, and hopped on the bus to experience fashion week. Did I mention that I had no idea what I was doing? This was the first time that I took the TTC and the Subway; you can probably just imagine how this went. However, I was very determined and passionate and at this point nothing was going to stop me. World MasterCard Fashion Week is an event that everyone plans their whole year around and it is the week where Canadian designers released their collections to the public and hope for great results. To me, it was an experience I will never forget!
After talking to a few people, and reading my map I managed to make it to King Street West and spotted the amazing white tent where all the action was happening. Tears began to fill my eyes as I made it closer to the red carpet and all the classy invites. It was so nice to be in an environment where everyone is there to celebrating your same passion.
A lot of time and effort is invested into T.O. fashion week and it is truly amazing to see how beautiful they style it. Once I got there, I walked in front of the tent where I got to see posters of various models from each collection. There were two line ups on either side where you would present your I.D and ticket and received a style bag before the show. Did I ever wish I could get a hold on one of those bags!
The air was so exciting and you can tell that everyone was so happy to be there. I continued to walk around the building, where I saw the studio room that consisted of three white tables with three vases filled with white feathers that dressed up the room. There was also a screen and lights that made it look like a runway. My friend, who came with me, had the idea of walking around the whole tent to see what else we could capture while we were there.
To our surprise we got to see the makeup and hair room, where each model in synchronized time would sit down on the chair get treated like a princess and then move on to the next chair. It was set up like little stations and was phenomenal to see how everything works backstage. That evening, was the show for Joe Fresh's collection, and from a corner view I could make out the dressing rooms as I saw the racks full of clothing and best of all, SHOES!
It was such an exciting night as I walked by the tent to see the door that read "designers entrance" and peaking in every once in a while to see who I could capture with my little canon digital camera. Fashion week is so magical and a night to remember! It was almost time for the show to start; all the actions outside was over with and there wasn't too much left to see. To get the full experience, I wanted to go around the tent once more to make sure I got to see everything that had to do with this evening. To my surprise as I walked around, I saw Joseph Mimran, the designer for Joe fresh being interviewed just before the show. This completed my evening and made this trip so worthwhile.
After all these years, I finally made it and can say that I went to Toronto World MasterCard Fashion Week, as an 18 year old. My crazy trip all for Fashion Week was an amazing experience for me and completely worth it. It opened up my eyes to the industry and made me realize that I am definitely in the right field and that fashion is exactly what I want. The air is filled with so much passion, that just going there to see the bright lights and the classy people, is completely worthwhile. I will be the first person to tell you that if you have a passion for style and glamour go to World MasterCard Fashion Week. Doesn't matter what age you are, it's an experience you'll never forget.
I can't wait to go next year where I'll finally be able to receive the whole experience. If my eyes tear up from only seeing from the outside, I can't imagine what next year is going to bring for me as a volunteer and spectator for the incredible shows.
(Me outside the tents at WMCFW!)