Tawainese-American designer, Alexander Wang, was born and raised in California, then moved New York City when he was 18 to pursue his dreams of becoming a fashion designer at Parsons School of Design. He ended up dropping out in his second year to work on designing his first collection, consisting mainly of knits. In 2007, his first women's ready-to-wear collection was released to much praise, and ended up having over 200 stores carrying his products. In 2011, he opened his first flagship store in SoHo and has since then expanded to stores in Asia. He has also branched into e-commerce, with his online store selling many of his creations. (alexanderwang.com).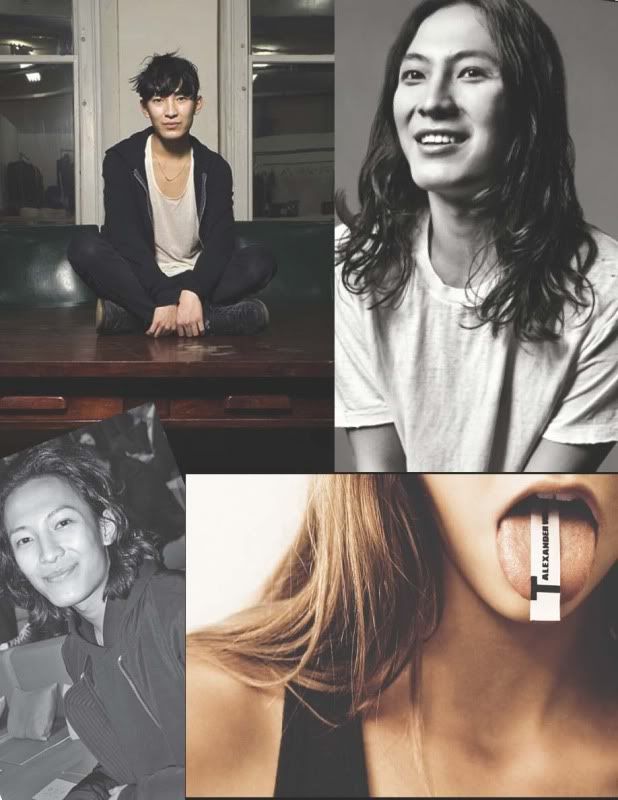 ( Photos from top-left clockwise: blog.youheshe.com, alexanderwang.com, alexanderwang.com, Fashion Wire Press)
Many of Wang's inspiration derives from the model-off-duty look. He is fascinated by all the girls coming to, and from, the shows and how they wore their tight jeans, with oversize t-shirts tucked in. From there, he created his line of t-shirts with his T by Alexander Wang line. The T line also features other very sporty looks, while his ready-to-wear collection remains luxurious, with more intricacies.
Alexander Wang clothes are very French chic and rock grunge, with an industrial overtone. He likes the look of putting on a t-shirt, that maybe you even slept in, then just got up and left. He has also created many it-items, such as the Rocco bag, the Freja booties, and the Donna hobo bag.
He has formed somewhat of a cult following, stylish girls walking around New York City decked out in Alexander Wang clothes, have been labeled "wangsters." Anna Wintour has been a huge supporter of Wang from the very beginning and pushed him into the spotlight because she knew he had what it takes to go big. Many celebrities have been drawn to his designs, and even have been included in his advertisements, including Azealia Banks, Diplo, and Die Antwoord.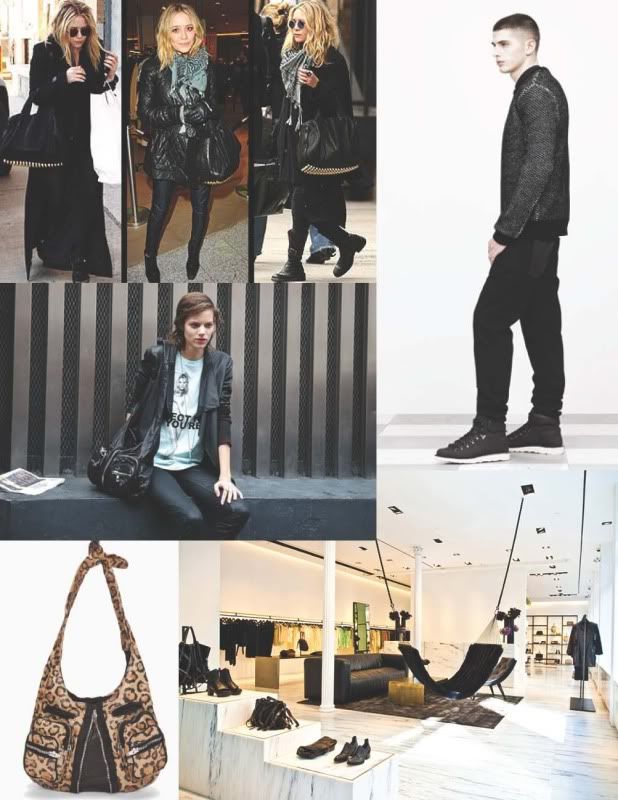 ( Photos from top-left clockwise:
fashgasms.bogspot.ca
,
alexanderwang.com
,
alexanderwang.com
,
ssense.com
,
mutex.me
)
In 2010 he came out with his men's T by Alexander Wang collection (one of my personal favourites) to cater to another demographic, once he had conquered the women's division. Here, Wang was influenced by skateboarders and basketball players on the courts in NYC, and their style, which he incorporated in his street-savvy men's line. From there he moved onto his men's ready-to-wear collection, and more recently, his line of accessories for men.
This young designer has already made such a stamp on the fashion industry, so we'll have to keep a lookout for what he has planned for the future of his ever-expanding business.
In his short time as a designer, Alex has received such prestigious awards as:
-
2008: Recipient of the Vogue/CFDA Fashion Fund
-
2009: Swarovski Womenswear Designer of the Year
-
2009: Swiss Textiles Award
-
2010: Swarovski Accessories Designer of the Year
-
2011: GQ Best Designer of the Year
-
2011: CFDA Best Accessory Designer
(alexanderwang.com)
By: Adam Keller