Marc Jacobs took inspiration from the swinging '60s for the Louis Vuitton's show in Paris. The 2013 Spring/Summer collection displayed straight silhouettes, high hemlines, sunny hues, and eye-catching prints. The bold splashes of black and white, are similar to the striped looks of the Milan runways; however Jacobs switched it up and used checkered patterns instead.
The models sported early-'60s style updos, teased to perfection and fastened with a simple white ribbon, tied into a bow. They made their way down sets of escalators and headed down the runway in pairs. They wore kitten heels, throwing us back to late '50s, and early '60s styles yet again. Despite the bold prints and colours used, the clothes were rather minimalistic. Each model only wore one or two garments, with a simple small handbag.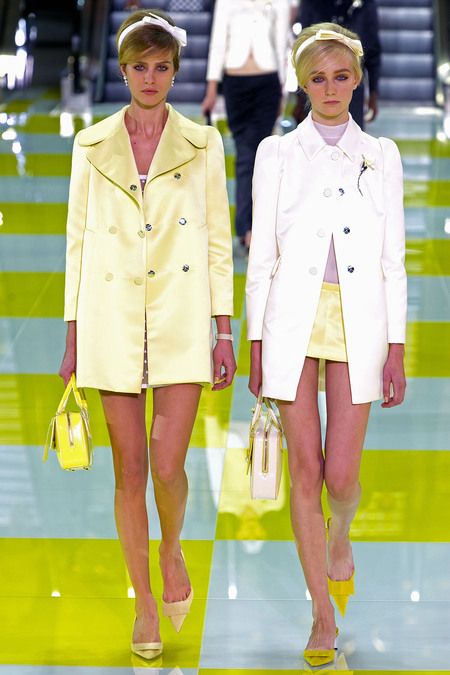 Marc Jacobs also used transparent fabric in several items, creating a subtle, yet revealing look for many of the models. It was very reminiscent of 1960s op-art, with a bright twist. The floor of the runway was also coated in the same yellow and white checkerboard pattern as the garments. The cheerful lemon-yellow brightened the mood of the show, really giving off a Spring/Summer feeling.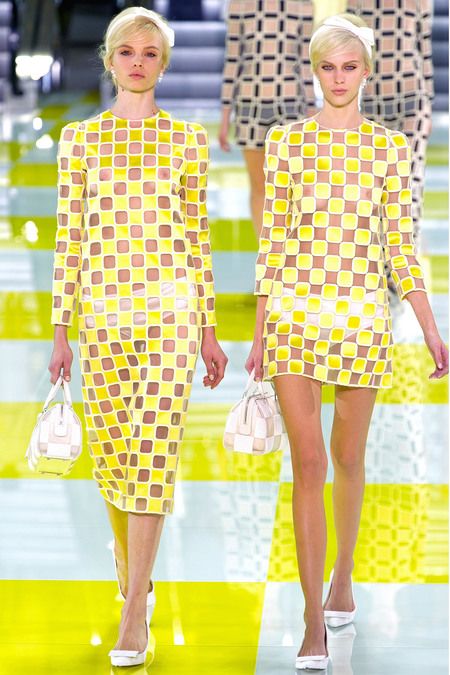 While some people may be skeptical of the true success of this show, the thing one must really consider is the spectacle that took place. The clothes were well-executed, but the showmanship of the escalators, and glass checkerboard runway, really made this show convincing. The creativity of Jacobs is enough to make anyone eager to swing into 2013 with his designs!