"Who are you wearing"
is the quintessential question coined by Joan Rivers before stylists and designers were aware of the actors nominated at the Golden Globes. Now, they are all fighting to get their latest creations on the fresh faces of Hollywood.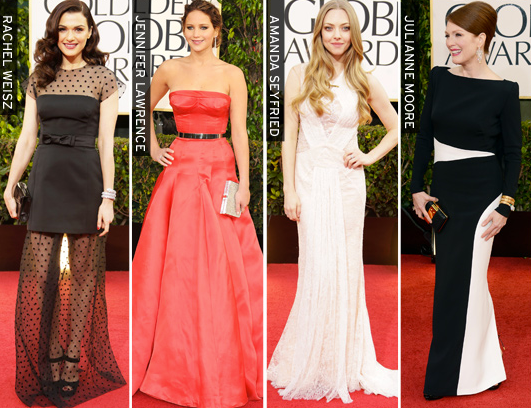 whowhatwear.com
With every red carpet comes the good and the bad. Starting with the good; Jennifer Lawrence was stunning in a red Dior Haute Couture dress. When asked about the dress in an interview she jokingly mentioned that she had no clue what "haute couture" meant. She took our breath away in Les Miserable and the elegant Anne Hathaway was head-to-toe Parisian chic, in an Haute Couture Chanel white embroidered bustier and slim long skirt and in a sea of over-accessorized outfits her simplistic look was refreshing. (vogue.com) Another amazing gown was worn by Jennifer Lopez, who looked absolutely fantastic in a Zuhair Murad body-con dress, detailed with ivory lace, which showed off her gorgeous curvy body. She may not have won for best song
but Taylor Swift certainly stole the show on the red carpet, wearing a Donna Karan Atelier eggplant gown with sheer paneling on the side, showing a more sophisticated side than we are usually used to seeing on her. Kate Hudson and Jessica Alba also both looked beautiful, Kate wearing an amazing Alexander McQueen dress with gold embroidered neck and belt, and Jessica wearing a melon silk gown from Oscar De la Renta.
An outfit that was questioned whether it was amazingly beautiful or a wreck was Jessica Chastain, who wore a sea foam Calvin Klein, the colour is usually a fashion don't as it is an extremely hard colour to pull off. (wwd.com)
Another questionable piece was worn by Lucy Liu who wore Carolina Herrera, the light blue dress was covered in coloured roses, which reported by fashion police was a little young for her and contradicted to her previous sleek and sexy dresses such as the metallic Versace dress she wore to the Emmy's. Another over-the-top floral printed dress was worn by Sienna Miller who was wearing Erdem.
Overall the fashion could have been better however, there were some amazing dresses displayed which
made up for the lesser than fabulous ones. I for one cannot wait until the Oscars on February 24
th
.