From prints to patterns, the Menswear collections have it all! With Diesel Black Gold, Giorgio Armani, Marc Jacobs, only to name a few, the menswear fall 2013 collections are fresh and exciting.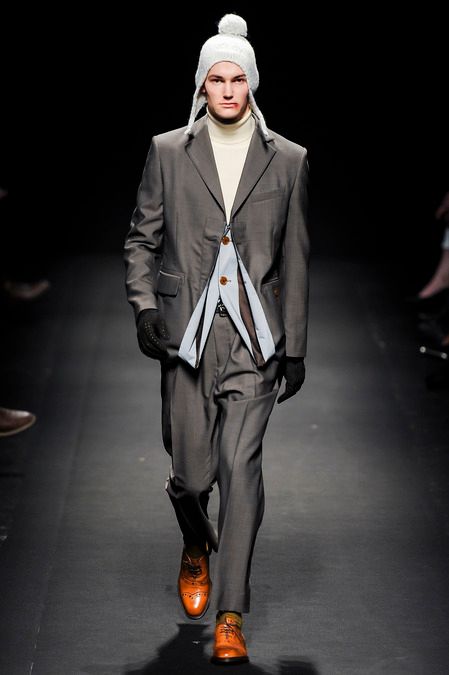 Vivienne Westwood brings to the runway a brilliant collection of Menswear for fall 2013, with bright colours, eccentric patterns, and fresh neoteric hats.
Westwood begins the show with more earthy tones and moves directly into more lively colours to uplift the collection. With the classic suit, Westwood ties in the high waisted pant as well as an eye distracting orange coloured shoe that brings the whole garment together. This was a surprise to me, a simple garment with a vibrant shoe. That was a pattern
amongst
the collection as other colors such as: purple and blue shoes were dispersed throughout the runway.
Westwood ha
s also added a twist to her new collection with using leg warmers and the idea of stuffing stockings into the pants. I guess they're coming back for fall 2013! Adding text to the stockings was also in this collection with more surprising looks such as: the poncho, the velvet hats, and the eye grabbing theatrical make up, that brought the looks all together.
Being a risk taker wasn't hard for Westwood and it was clearly proved by the sterile face mask. Yes you read this correctly. The sterile cap was matched with a complete hounds tooth ensemble from head to toe (see photo to the right). The print of hounds tooth was a very popular on Westwoods runway. Before this garment was presented, there was a series of hats that were covering the face, leading up to this shocking mask that is part of fall 2013 fashion. Who knew that this health inspired look would be presented in fashion for this year.
This collection, also displays fur ne
cklines, animal prints, and knits. Westwood displays a wide range of uniqueness with of course her plaid styles, printed garments, the big sweaters, and the comfortable cardigans. Those are just a few key looks to the show. Be sure to check it out the rest of the looks on style.com!
all photos courtesy of style.com