At not quite halfway through the winter, no other acceptable excuse that allows us to countdown the next winter like Louis Vuitton's men's F/W 13-14. It may have been Paris Men's Fashion Week but we were no longer in France when the alpine ready men took the runway last week.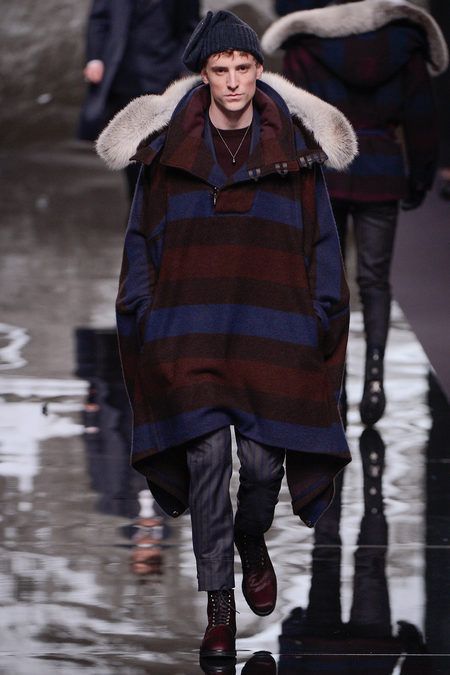 Maybe it was the deep side parts and the luggage being sported, but classic Icelandic luxury was born. It almost felt like an adventurous spy mission when the models strutted on by. There were oversized masculine anoraks and blazers sported in either with subtle animal print detailing or a bold color print. The slow progression of prints on the runway helped to ease us into the concept of it by starting subtle, moving into bold but small pieces with just the collars and finally going all out. This is something we have been seeing on women for years but can be shocked to see the male models pull it off. It added a wild adventurous tone to the ultra masculine line as did the large fur lined hoods that fell effortlessly askew on the models.
Colour choices were rich shades of deep reds, browns and blues with some unexpected orange hints as well. Even the leather dress shoes were shined to the nines but maintained handsome deep tones. This voyager look could not be complete without stunning pieces of luggage. Drawstring, slouchy, backpack style and even a full size beautifully classic trunk worn right on the back, complete stole the show.
As the show finished, boundaries were pushed even further with beautiful silk robes, holding onto the spice infused shades but this time in a paisley print. These luxurious pieces were the epitome of elegant and definitely unexpected of style director Kim Jones.
If you haven't yet checked out the
show
, put it on your to-do list immediately. The music added a mysterious flair to the event but suited the line up perfectly. It was complete with a snowy mountainous backdrop, perfectly exaggerating the vision Kim Jones had of men as brave, masculine voyageurs of life.
By: Maddison B.
Photos: NowFashion, . Paris Menswear A/W 2013 Louis Vuitton. 2013. Show Studio, Paris. Web. 19 Jan 2013.