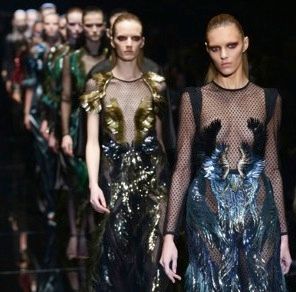 GUCCI FINALE
(
fashion.telegraph.co.uk)
Grazie Milano! Your shows this season were amazing! We were treated to the high-quality workmanship and soft edge that Italian designers are known for. The looks were diverse across the board, from the glitz and glam of Roberto Cavalli's collections, to the mod Missoni and Salvatore Ferragamo, to the sexiness of Versace and Gucci (and let's not forget Dsquared

2

's show that was very masculine and very feminine all at the same time).
The collections were extremely powerful with a blend of quality and design (turn to Jil Sander for a great example of this). We were also privy to a high amount of rich and luxurious fabrics used together to create truly unique outfits. Bottega Veneta gave us the essential Italian mix of wool and silk, while Marni showed us some leather, fur, and tweed.
Milan showed us a wicked week of true fashion like only the Italians can do it. To Paris we go!!