fgitoronto.org
Our very own Canadian company has swept the streets of Montréal, Vancouver, Edmonton, and Toronto, for the 175 year celebration of Holt Renfrew! What an accomplishment after opening in 1837 in the Québec City, and now consuming over 10 successful stores across Canada, whom are all teaming up for the 175th anniversary parties.
Over the past 175 years, Holt Renfrew has been serving customers across Canada as a high end retail store, with all of the essentials you may need; from Chanel cosmetics to Michael Kors handbags. This enables a consumer to shop with all the designer products, right in the palm of their hands. When I visited Holts for a gala, I was able to stand in the middle and be surrounded by all the designers. It was if there were little collections all under one roof... it is everything you need in one store!
The festivities were not hesitant when it came to this celebration, as Holt Renfrew kicked things off by having a huge party for Fashion's Night out on September 6th. The doors were open late, until 11 pm, and it was packed with many excited shoppers!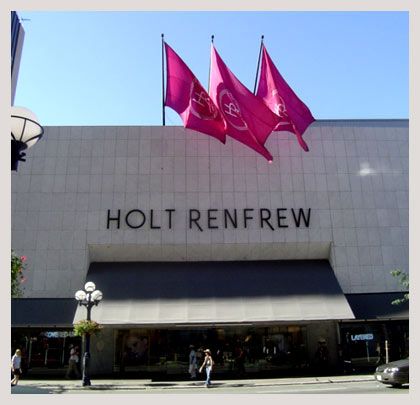 fashionbombdaily.com
The Expansion:
As the excitement continues, Holt Renfrew was pleased to announce that the storelocation at the Yorkdale Mall will be expanding to new heights. Yes you read thiscorrectly, Holt Renfrew will be adding more floor space and products for all you Holt fans. The expansion was anxiously introduced right after the big party on Bloor for Fashion's Night out, and it only brings more attention and excitment to Holts!
Holt Renfrew also launched the new limited edition Magenta collection where many designers collaborated, creating a spectrum of items available in store. Designers such as Kate Spade, Michael Kors, Bobby Brown, Naked & Famous, Valentino, Christian Louboutin, and an Alice + Olivia Peplum dress, are a part of the new Magenta collection.
A long with this, Hot@ 175 is now getting ready to hit the streets of Edmonton and Vancouver for the end of their going mobile tour. The mobile tour is selling exclusive limited edition sweaters, which is an emormious part of the anniversary celebration.
Be sure to visit your closest Holt Renfrew store for special events, the new collections, and a celebration you do not want to miss out on.
After all, who doesn't want to celebrate in magenta?
By: Chelsea Trudel