"Forget trendy designer labels. Jeans, a sweater or a t-shirt worn under a jacket that seems welded to you. When it's just right, when you don't see the effort, it's irresistible"
(mystylefest.wordpress.com)
From top-left, clockwise:

blog.trilogystores.co.uk

,

flare.com

,

mabqueen.com

,

monoxious.com

. Middle photo:

vogue.com
Succeeding Carine Roitfeld as the editor-in-chief of Vogue Paris in February 2011, Emmanuelle Alt has surely come far in the fashion world. Beginning at the tender age of 17, she was working at French Elle, and then at 20 Ans, a French monthly magazine for young women, becoming the editor-in-chief there in 1993. She held that position for five years, and from there moved onto the magazine, Mixte, where she styled editorials. Roitfeld had picked up Alt straight from that magazine to work as fashion director of Vogue Paris in 2000. Alt also had many side projects, mostly in a freelance setting. These included consulting for top fashion houses such as Balmain, Isabel Marant, and Giuseppe Zanotti. She brought her rocker attitude and appeal to the brands and turned up the hot notch on them, elevating the designers to the top of fashion's radar.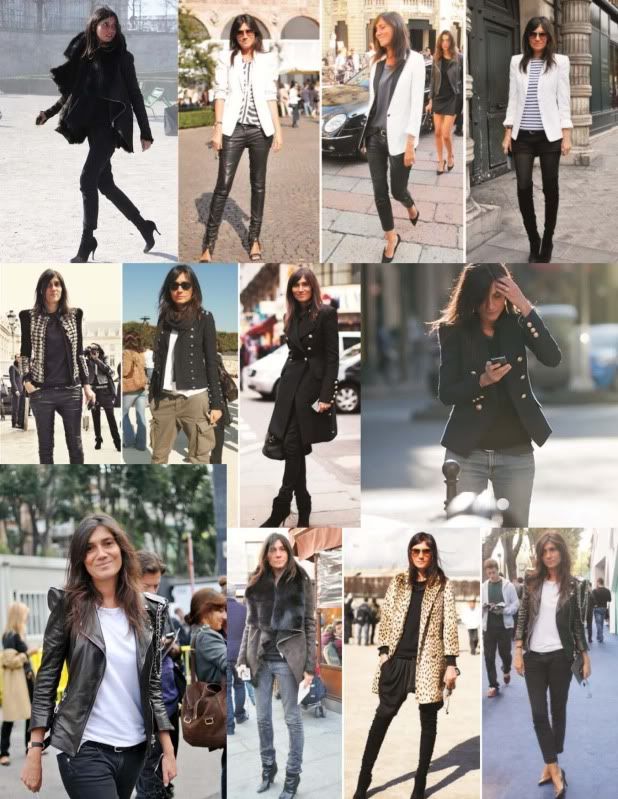 From top-left clockwise: mamusedemode.blogspot.ca,fashionzese.com, laleluxury.blogspot.ca, fashionzese.com,fashionmenow.blogspot.ca, fashionzese.com
Emmanuelle Alt is a true Parisienne. Her style is rock 'n' roll, with a youthful, makeup free appearance. She is often seen in skinny jeans, a loose t-shirt tucked into her jeans, a blazer, and the hottest heels around. With every brand at her fingertips, she still decides to wear Topshop jeans, saying they are "the best in the world" (vogue.com).
Even during the global financial crisis of 2010, Roitfeld and Alt were able to increase Vogue Paris' circulation from 100,000 to 140,000 (nytimes.com). This increase was undoubtedly encouraged by the magazine's content of bold and controversial fashion editorials. Many of fashion's elite are confident that Alt will continue to do wonders for Vogue Paris as its editor-in-chief. She has concluded that she does not want to turn the magazine upside-down, and that she is happy with it the way it is. Alt is seen to be more commercial than Roitfeld, being more connected to the street, and therefore may appeal to a wider audience. We will just have to wait and see what Emmanuelle Alt has in store for us!