Down the streets of Paris you spy a model-height, flaming red-haired girl, decked out in the hottest fashions, and stacked to the nines with jewellery. Flash! She's being followed by the biggest street style bloggers, taking her picture at every step. Who is this fashion maven? None other than Taylor Tomasi Hill of course!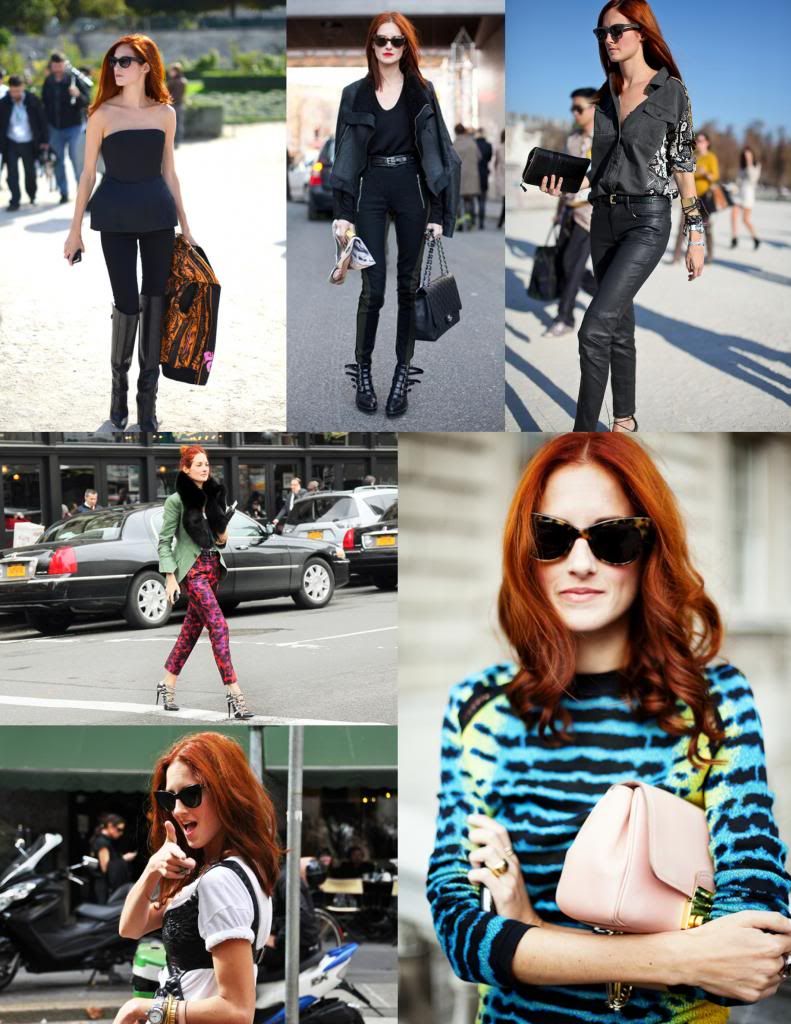 From top-left, clockwise: coolspotters.com, brigadeirochoc.blogspot.com, coolspotters.com, stockholmstreetstyle.com, streetpeeper.com, erinjeen.com, youstylexx.blogspot.ca


Taylor was born and raised in Dallas and went onto gain a Bachelor's Degree in Industrial Design from the Pratt Institute. There she studied how to make things like tabletops, shoes, and everything in-between. However, a career in fashion ended up being her calling. She began with an internship for W Magazine and was subsequently hired by Teen Vogue as their Accessories Director. This may be why she has such an affiliation with statement jewellery!
In February of 2011, Taylor joined the online e-commerce site Moda Operandi as their Artistic Director, where she focuses on the editorial features (nytimes.com). The site features clothes to purchase right off the runway, and was at the forefront of this new style of fast-fashion for luxury goods. Taylor has also done some designing of her own, with an exclusive capsule collection for retailer Lane Crawford.
From top-left, clockwise: style4style.tumblr.com, refinery29.com, leeoliveira.com, brigadeirochoc.blogspot.com, backseatstylers.com, streetpeeper.com
Taylor mixes high-street with high-end clothing to put together eclectic outfits that are still practical. She has said that she is a "clothing chameleon," with an ever-changing style and attitude. When asked what is one of her favourite fast-fashion stores she answers, "Zara. Some of my favorite things in my closet have come from Zara. Their price point is unbeatable, and they have a great way of interpreting trends that's a good medium between taste and quality" (refinery29.com). This pretty much sums up what's to love about Taylor. She has impeccable style, and isn't afraid to be seen wearing lower-priced fashions and re-working different pieces in new ways.
By: Adam Keller