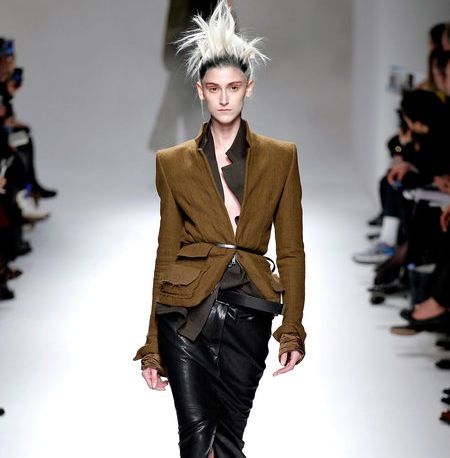 style.com
Fashion can be a way of expressing ourselves, but it can also be a way of protecting us. Many times our outfits and style choices take on a form of personal armor, and give us confidence. Haider Ackermann took this very personally for his Fall 13 collection.
"I'm surrounded by so many strong women, but there's always a fragility inside and I wanted to explore that," He says, and his collection does an even better job of describing this. The dry-ice fog cleared for each model as they walked the runway with power and strength, both in attitude and in the structure of the outfits. There was such a sense of toughness with the structural silhouettes, a very purpose about the way they showed off the collection.
style.com
Each piece overtook the petite frames of the models, but in a wonderfully form fitting way. The inward "fragility" that he spoke of was enclosed in full forms of leather, large collars, and fur trimming. The colour palette was deep yet urban, and not as feminine as we are used to. While the colours kept the look serious, it was the small details that preserved the sexiness still found in the line. Details such as a perfectly angled off the shoulder look to the sweaters and dresses, and cinched waists thanks to gorgeous peplum jackets. In conclusion, this collection stands out from the rest of the fashion world thanks to its thoughtfulness and its overall message of the line.
style.com
style.com
style.com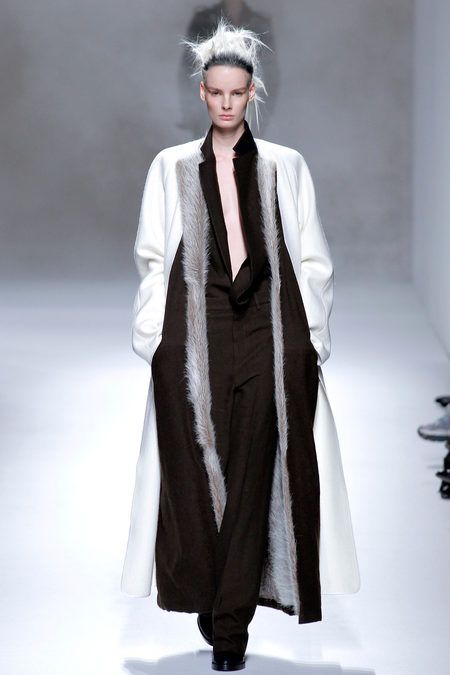 style.com