The sixth annual Eco Fashion Week took place recently from April 21-24 in Vancouver, Canada. Each year Eco Fashion Week allows designers to showcase their sustainable collections. Designers and attendees are able to attend daily seminars on a variety of topics such as repurposing second hand clothing and future trends in the eco market. This year 25 designers and stylists showed their collections or competed in eco challenges throughout the week. Notable individuals from the event included Elroy, Jasmine Zhu, and Svensk.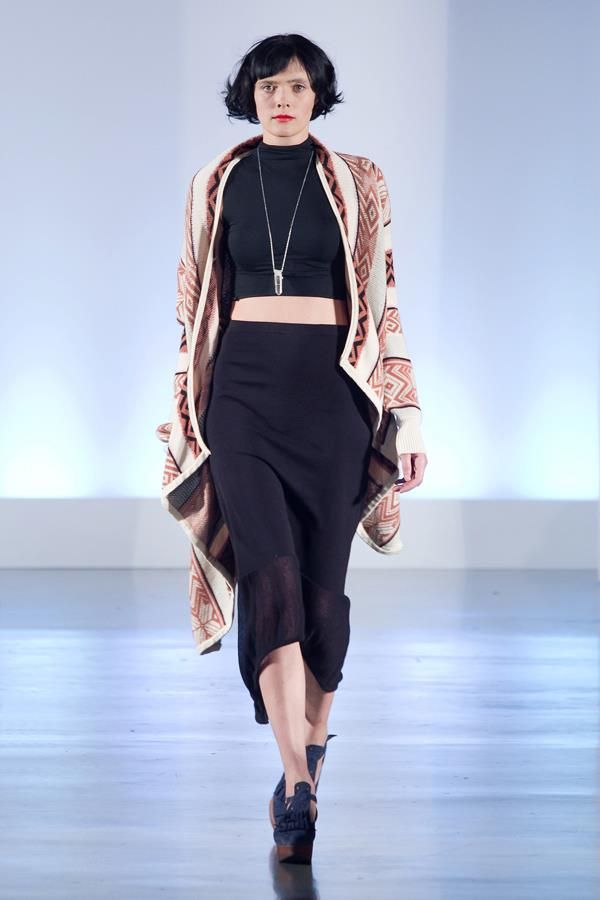 PHOTO CREDIT: PETER JENSEN
Elroy is a Canadian brand designed by Leanne McElroy. The company was created six years ago. It's main goal is to make beautiful clothing while preserving the environment. They also believe in a positive workplace environment for all staff, including their offshore manufacturers in Indonesia. Elroy's clothing can be described as trendy and comfortable with an earthy feel.
PHOTO CREDIT: PETER JENSEN
Jasmine Zhu is a Canadian blogger and stylist. During Eco Fashion Week she competed in the Thrift Chic Challenge sponsored by Value Village. The challenge was to style 15 outfits with $500 using only items from Value Village. The outfits that Jasmine put together were creative and beautiful. She took standard pieces and put them together to create high fashion looks that any fashionista would be drooling over. You can see all of the contestant's outfits on Jasmine's blog
Posing in Vintage

.
PHOTO CREDIT: PETER JENSEN
Svensk is an eco-knitwear designer based out of Sweden. Svensk was started by 19-year-old Diana Svensk in 2009. Her designs are sold in over 80 stores in 12 different countries. Svensk's designs are not your typical "made by grandma" clothing, they are versatile and on trend. Svensk designs everything from sweaters to backpacks.
Eco Fashion Week proves that eco fashion does not have to be boring or lame; it makes it cool to be sustainable and thrifty.
Sources: Eco Fashion Week, Vancouver Eco Fashion Week